The prevention and security officer (APS) aims to discourage malicious acts: theft, incivility, vandalism, damage to monuments …
To do this, he monitors a place, either by staying at a fixed post, or by carrying out rounds. He knows the location of the installations to be monitored and checks that the preventive measures put in place (warning devices) are working properly.
Sometimes it is on a screen that he monitors suspicious movements and the proper functioning of technical installations, for example.
In the event of a problem (theft, break-in, fire, etc.), the APS is often the first on the scene. He must apply the safety rules and instructions of his employer, and make them apply to anyone with whom he is in contact. If necessary, he calls on the competent services: police, gendarmerie or fire brigade.
This is why the Société Nouvelle de Sécurité places particular emphasis on the training of all its agents before they are set up on the various customer sites.
All SNS Agents go through training (in first aid, self-defense, law, code of conduct, fire safety, communication and many others) in a sub-regional safety school recognized by the State and are regularly assessed at the continuation of continuing education courses organized regularly.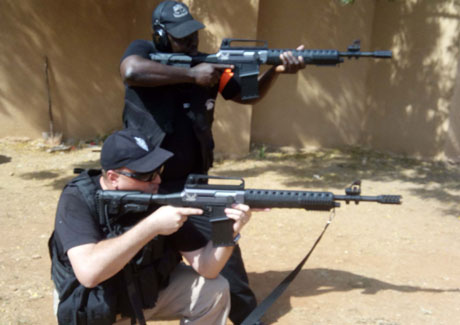 SNS in Mali also offers its clients the possibility of having armed Agents.